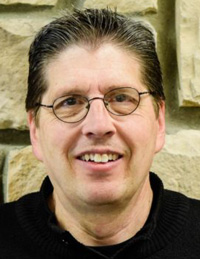 Rev. Glenn Flint (right), a former United Brethren minister, passed away Thursday, February 18, 2021, after a long struggle with blood cancer (Multiple Myeloma). He was 59 years old. Glenn is survived by his wife, Jean, whom he married in 1982, and their two married daughters.
Glenn grew up in the Munson UB church of Waldron, Mich. He graduated from the Huntington University Graduate School of Christian Ministries in 1986 and was ordained that year as a UB minister. He served in ministry at two UB churches in the former Michindoh Conference before joining the staff of Emmanuel UB church (Fort Wayne, Ind.) in the early 1990s as the worship pastor. He served 2000-2002 as associate pastor of Anchor UB in Fort Wayne, and since 2002 has been Director of Music & Worship Ministries at Fairview Missionary Church in Angola, Ind.
Glenn's brother, Steve, is Pastor of Worship and Care at King Street UB church in Chambersburg, Pa.