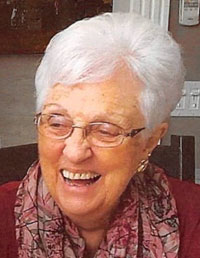 Nadine Louise Speas, 88, passed away April 25, 2020, in Grand Ledge, Mich. She is survived by her husband, George, to whom she was married in 1955. George was ordained as a United Brethren minister in 1987, and they served in the pastorate for many years in Michigan, including 30 years at Kilpatrick UB church (Woodland, Mich.). A private burial will take place in the Woodland Memorial Park Cemetery, with a public celebration of Nadine's life to be held at a later date.
Condolences can be sent to Rev. George Speas at:
Rev. George Speas
c/o Jeff Speas
4173 Brown Road
Lake Odessa, MI 48849
You can read Nadine's full obituary here.