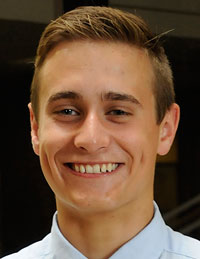 On January 26, Huntington University held a grand opening for its new ice rink.
The portable rink covers the outdoor basketball court in front of the Merillat Complex Fieldhouse and will remain in place during the winter months. The Athletics Office purchased skates, along with hockey sticks and pucks, for students to use. The Fort Wayne Komets, a pro hockey team, are the lead sponsor of the facility.
This was totally a student-led and student-executed project.
Tyson Kalischuk (right), a junior from Calgary, Alberta, Canada, presented the idea through the student sennate's Think Tank competition in November. His ice rink proposal was voted students' favorite idea to improve the campus, and he was awarded $700 to help fund the project. He embarked on a fundraising campaign for the remaining resources needed to purchase and maintain the ice rink. To date, Kalischuk has raised $6,850 from student organizations and campus offices, and from outside sponsors. That $675 more than the projected amount needed to cover the costs.