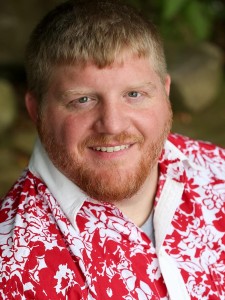 Kathy Maybee, Heart O' the Lakes UB church (Brooklyn, Mich.)
We are excited to introduce Pastor Cyle Young (right) as the new Lead Pastor at Heart O' the Lakes Church. Cyle and his wife Patty have three children; Carver (9), Cyleigh-Anne (7), and Carrick (4). Cyle will be with us on May 1 and his family will join him here on May 8. They have secured housing and are working through the process of making the move from Springfield, Ohio.
Cyle is an ordained minister with over 16 years of fulltime ministry experience. He holds a B.A. in Religious Studies from the University of Michigan where he graduated with honors, and was a four-year student athlete. He has an M.A. in Christian Leadership from Liberty University, and an M.R.E. in Religious Education from Liberty University. Cyle and his wife Patty have authored several books, and Cyle has been a keynote speaker at many conferences, colleges and universities.
Cyle previously served as Executive Pastor of Family and Sports in a large multi-campus church. He also served as Pastor of Children, Students, and Sports in a church of 1,400. He was an Executive Pastor of Youth and Family, and the Lead Pastor for an inner-city church plant. Cyle has led mission trips, managed multiple staff and volunteers, and even plays bass guitar.
We are excited to welcome Cyle and his family to Heart O' the Lakes Church. May God truly bless them as they join our family at Heart O' the Lakes Church.