14 Apr

Obit: Mildred Nelson, Missionary in Sierra Leone 1947-1949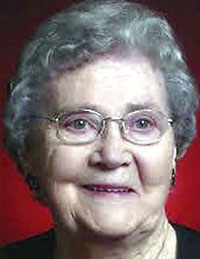 Mrs. Mildred (Rawley) Nelson passed away April 3, 2016, at age 92. She served as a United Brethren missionary in Sierra Leone 1947-1949. The funeral was held at 4 pm on April 8, 2016, at Trinity Evangelical Church in Fort Wayne, Ind.
Mildred, raised in Mt. Solon, Va., felt called to mission work, but didn't see how it would be possible. But she entered Huntington College, and on March 8, 1947, she arrived in Sierra Leone to become principal of Minnie Mull School for Girls in Bonthe.
Jearl Nelson went out a year later, in 1948. He and Mildred were married on April 22, 1948, on the field by fellow missionary (and future UB bishop) Rev. Clarence E. Carlson.
Nearly all missionaries experienced malaria, but Mildred was relentlessly pursued by the disease. It became necessary for her to return to the States. She and Jearl settled in Mooreland, Ind., where they taught school and raised a family. Jearl passed away in 1996. In her later years, Mildred lived in Fort Wayne near her son Steve. She is survived by seven children.