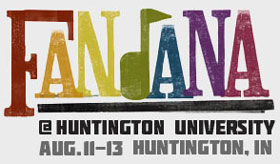 The first annual Fandana Festival is coming to the Huntington University campus on Aug. 11, 12 and 13.
More than 30 bands will perform on multiple stages around campus, including Switchfoot, Sidewalk Prophets, Photoside Cafe, BarlowGirl, Stellar Kart, Josh Wilson, SevenGlory, Hyland, Red Umbrella, Attaboy and Me in Motion. The festival will also feature an indie band competition, seminars, an indie film component and kid-friendly activities including inflatable games.
"Huntington University is very enthused about hosting the only multi-day Christian music and arts festival in the state of Indiana. The Fandana Festival is also one of the only music and arts events in the nation to be held completely on a college campus," said Jeff Berggren, HU's senior vice president for enrollment management and marketing. "This is an opportunity to welcome our regional friends for a fantastic family and teen group experience."
The fun will begin on Thursday afternoon with the biggest festival day on Friday. Fandana will run through Saturday with a smaller workshop component for independent bands as well as a praise and worship service that morning. Overnight lodging is also available in residence halls for individuals or groups. Meal plans and individual meals are also available.
Tickets are $19 in advance or $25 at the gate for all three days. HU students are $5, children ages 6-10 are $5 and children 5 and younger are free. Groups of 15 or more are $15. Special rates are available for HU faculty and staff.
"The Fandana Festival is a great ministry opportunity for HU and we look forward to watching the event grow over the next several years," Berggren said.