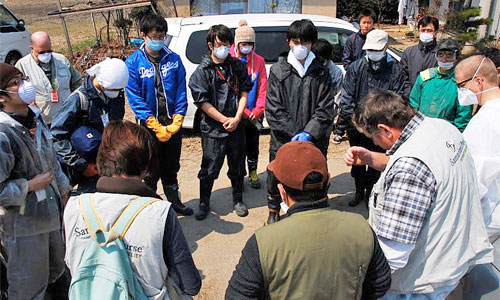 To date, Global Ministries has received over $11,000 from UB churches and individual donors to support tsunami relief efforts in Japan. As we promised, this money has been forwarded to Samaritan's Purse, an organization with which we partner for disaster relief.
The evangelical Christian community in Japan represents less than 1 percent of the population, but undaunted, they are eager to help their countrymen. Samaritan's Purse is working with churches in Japan providing tangible help with blankets, kitchen kits, and hygiene kits.
In addition to buying supplies locally, Samaritan's Purse airlifted 93 tons of emergency aid to Japan on a 747 jumbo jet just a week after the tsunami. Their team continues to work with local church partners to distribute essential items to tens of thousands of people in the hardest hit communities.
Transportation remains a big challenge on the road to recovery. Nearly every car in the affected area was destroyed, and the country is facing a fuel shortage. In response to this need, Samaritan's Purse has purchased hundreds of bicycles that they are giving to churches and evacuation centers, so people can borrow them when needed.
To help displaced families return to their homes, Samaritan's Purse is providing pastors with small, inexpensive pickup trucks, each one loaded with a generator, power washer, and clean-up tools. Their team is training Japanese Christians in how to do "mud-outs," and are setting up tents to serve as bunkhouses for volunteers coming from churches elsewhere in Japan.