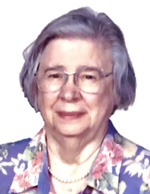 Gail D. Miller (right), 89, passed away July 1, 2020, in Montpelier, Ohio. She and her husband, Rev. Robert Miller, served in the United Brethren pastorate for over 40 years. She was actively involved in children's ministry in the church and summer camp.
Visitation: 10am on Friday, July 3, 2020.
Funeral: 11:30 am immediately following the visitation.
Location: Stryker United Brethren Church, Stryker, Ohio. Rev. Nick Woodall will officiate.
In lieu of flowers, the family asks that memorial contributions be made to the Stryker United Brethren Church. Online condolences may be offered to the family at the Grisier Funeral Home website.