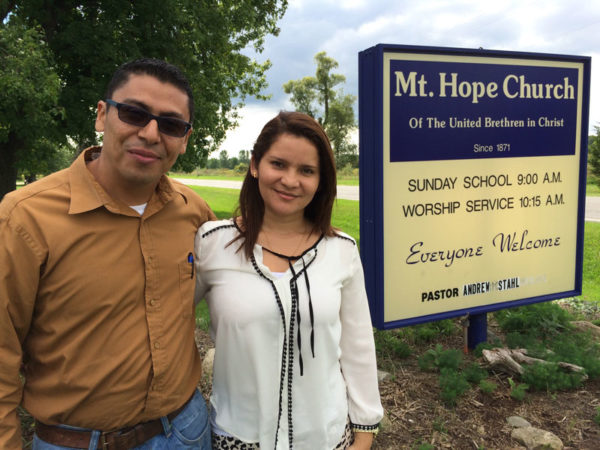 Milton and Erika Pacheco, a couple from Honduras, plan to join our team in Thailand in early 2017. They are currently in the States speaking in United Brethren churches and raising support.
On September 18, they visited Mt. Hope UB church in Carson City, Mich. There, they met Nancy N'Gele, who served 11 years as a missionary in Sierra Leone.
Here is the Pachecos' schedule through the end of November, in case you have opportunity to go hear them. In some churches, they will also do music–a very talented couple.
September 18: Mt. Hope UB church (Carson City, Mich.).
September 25: Franklin UB (New Albany, Ohio).
October 2: Otterbein UB (Greencastle, Pa.).
October 9: Heart o' the Lakes (Brooklyn, Mich.).
October 16: New Horizons (Rockford, Ohio).
October 23: Mt. Zion UB (Decatur, Ind.).
October 30: Clearview Hispanic (Goshen, Ind.).
November 6: Fountain UB (Keyser W. Va.).
November 13: Salem UB (Chambersburg, Pa.).
November 20: Eden UB (Mason, Mich.).