24 Aug

Steve Dennie Retiring After 45 Years at the UB National Office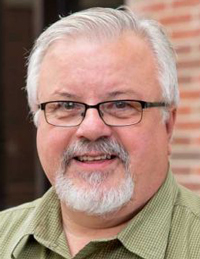 Randy Neuman (right)
Librarian and faculty member at Huntington University, and director of the United Brethren Historical Center
Much has changed in the Church of the United Brethren in Christ during the past four decades, and now the person who helped us understand many of those changes is stepping down after 45 years. Steve Dennie, Director of Communications, will leave his position at the end of August 2023.
Steve has been steeped in United Brethrenism since birth. The son of a United Brethren pastoral couple, Don and Gloria Dennie, he spent his early years on the campus of Huntington College where his dad served six years as assistant business manager. He lived in Pennsylvania, Arizona, and California while his father transitioned from schoolteacher to pastoral ministry.
Like many PKs at that time, Steve enrolled at his parents' alma mater, Huntington College, to further his education. He pursued a degree in communications with an emphasis on journalism. His love of journalism began in elementary school and was developed further in high school and college by teachers who encouraged his style of writing.
Steve began his career with the denomination in 1978 as assistant editor of The United Brethren magazine, once the primary communication tool of the denomination. He started out as a traditional magazine editor when the denomination owned its own printshop, but soon was thrust into the position of primary editor as the printshop was shut down and the publication was outsourced for printing. He surpassed all the challenges while turning out an award-winning publication.
Over the years, Steve has overseen many changes to the way UBs communicate. Transitioning from editor to director of Communications, he shepherded the denomination from a totally print-based communications strategy to one that is almost totally internet-based. In addition to being chief information gatherer and disseminator, he has served as the editor of national conference publications and the UB Discipline. He has also edited or authored a dozen books, including one major UB history, several biographies, some humor books, and his personal favorite, the recent Against the Blighting Curse, a look at UBs who served in the Civil War. Among his other works, he is particularly fond of Tio Archie, about missionary Archie Cameron and the history of the UB church in Honduras.
In a recent interview, Steve was asked about several topics related to the United Brethren denomination and communications. When asked about the most significant changes he has seen during the last 45 years, he cited the move from several bishops to one in 1993, the development of the international structure in 2001, and the transition to one national conference in 2005. When asked about his favorite United Brethren figures, he suggested Bishop Jonathan Weaver (1824-1901) because he was a prolific, persuasive, and humorous writer. He also spoke highly of Bishop C. Ray Miller, who was instrumental in developing young ministers and lay leaders. As to the state of communications within the denomination, he thinks the time is right for a change to new platforms to disseminate information.
Steve and wife Pam will continue living in Fort Wayne, Ind. He plans to continue to write, edit, and take care of his two cats while in retirement.