05 Jul

US National Conference: Main Services and Business Meeting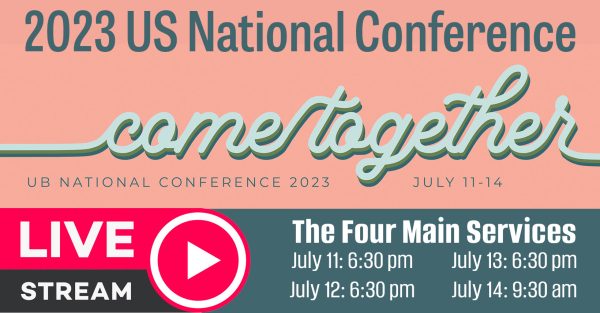 The 2023 US National Conference is only a few days away. It will begin July 11 at the Grand Wayne Center in downtown Fort Wayne, Ind. Currently, about 530 people are registered.
Livestream of Keynote Services
The four main services are open to anyone to attend. You don't need to be registered for the conference. Just come and enjoy the services.
Those four main services will also be livestreamed, so you can participate from afar. Click on this link.
Those four services are:
July 11: Opening service at 6:30 pm. Dr. Walter Kim, president of the National Association of Evangelicals, is the speaker.
July 12: Evening service at 6:30 pm. Dr. Kim will speak again.
July 13: Evening service at 6:30 pm. Frank Yang and Steve Fish, from UB Global, will speak.
July 14: Closing service at 9:30 am. Bishop Todd Fetters will speak. The service will include seven ordinations and a commissioning service.
Open the church to people to come watch on the sanctuary screen. Maybe share a meal together beforehand. Or invite fellow parishioners to your home to watch a service together. Though not attending in person, you can still participate.
Business Session on July 12
The morning and afternoon of the second day–Wednesday, July 12–are devoted to business. The delegates will consider nearly 30 different proposals, seven of them from the Human Reproduction Task Force. All have now been posted on the Reports page on the UB website.
Take a look at the reports. You'll learn a lot about what's been happening in the United Brethren world during the past two years.