03 Jun

Obituary: Death of Rev. Gerald Gallaway, 1937-2023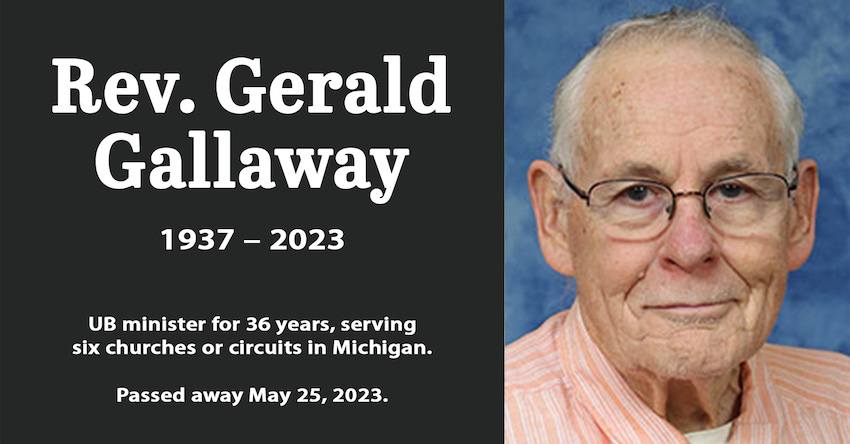 Gerald Gallaway, a United Brethren minister for 36 years, passed away May 25, 2023.
Visitation: 4-7 p.m. June 23, 2023
Funeral: 1:00 p.m. Saturday, June 24, 2023.
Visitation and Funeral Location: McCallum United Brethren Church, 5505 Otis Lake Rd, Delton, MI 49046
Gallaway grew up in Leslie, Mich., and went on to attend Huntington University, graduating from both the college and seminary. He and Saundra (known as Sonnie) met at Huntington and were married in 1961. Four years later, they embarked on a career pastoring six different churches or circuits in Michigan.
Casco UB/Chicora UB, 1965-1969.
A circuit in South Haven, Mich., 1969-1976.
Charlotte UB (now Crossroads) 1976-1979.
Maple Hill UB (now Homefront) in Grandville 1979-1986.
West Windsor UB in Dimondale 1987-2002.
McCallum UB in Delton, where he retired.
His after-retirement years were spent singing and playing his guitar at various nursing homes in Hastings, Delton, Galesburg, and Plainwell, as well as in church.
According to the published obituary, "The family is requesting that all who attend both the visitation and service wear bright Hawaiian colors. In his years after retirement, Gerald found joy in the Hawaiian colors and also the music."