01 Jun

Brian Biedenbach to Join UB National Office staff as Director of Communications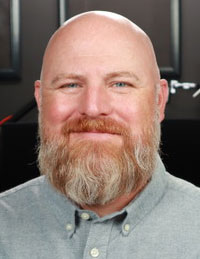 Bishop Todd Fetters has announced that Brian Biedenbach (right) has been hired as the new Director of Communications for the US National Conference. He will take the place of Steve Dennie, who will retire on August 31 after 45 years at the UB National Office. Brian will begin sometime after the US National Conference meeting in July.
Brian has worked in fulltime youth ministry for 22 years, including eight years at Emmanuel UB church in Fort Wayne, Ind., and 11 years in Fort Wayne with Youth for Christ. He served five years on the YFC Core national ministry team, wrote curriculum for everything from small groups to national conference breakouts, and spoke at a wide range of youth events and conferences.
Brian brings skills in a variety of communications-related areas, including video, podcasting, social media, graphic design, and curriculum development.
In 2021, Brian founded Summit City Studios, a podcast production company. He is a Youtube video content creator, and has also produced videos for campaigns, event promotion, and corporate training. He created and hosted four podcasts, including the ten-episode "For the Neighborhoods and the Nations," in which he and Bishop Todd Fetters discussed the United Brethren Core Values.
Brian Biedenbach grew up in Cincinnati, Ohio, and graduated in 2000 from the University of Indianapolis with a degree in Biology. In 2003 he became the middle-school pastor at Emmanuel UB church in Fort Wayne, Ind. He received his Specialized Ministry license in 2005, and in 2013 graduated from Huntington University with an MA in Youth Ministry Leadership. For five years, he was part of the denominational Youth Ministry Leadership Team.
Brian is currently involved at Living Grace UB church in Fort Wayne, Ind. He and Amy recently celebrated 23 years of marriage. They have three children: Haley (18), Jesse (16), and Asher (13). He says his favorite place to be is on the sidelines watching his kids compete in the sports they love.
The Director of Communications position traces back to 1834, when William Rhinehart became the first editor of the first UB denominational publication, The Religious Telescope. The name of the flagship publication became The Christian Conservator in 1889 and The United Brethren in 1957. The position title remained "editor" until 1993, when The United Brethren was discontinued. The editor position was then renamed "Director of Communications" and centralized under the Office of the Bishop. Twenty different persons have held the position since 1834. Brian Biedenbach will be the 21st.