01 Jan

Death of Rev. Donald Dennie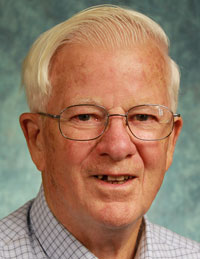 Donald W. Dennie, 91, a longtime United Brethren in Christ minister, passed away the evening of Friday, December 30, 2022. He died at the home he shared with Gloria, his wife of 67 years, in Fort Wayne, Ind.
Don Dennie grew up around Lake Odessa and Lowell, Mich., the youngest of five children. Growing up, he attended Pleasant Valley UB in Lake Odessa. He went off to Huntington College in 1951, but was drafted and served two years in the US Army, mostly in Germany (he was a chaplain's assistant).
After mustering out, he returned to Huntington and completed his degree in Social Studies in 1957. He added a Masters in Elementary Education and Administration in 1964 from Ball State University. Further coursework occurred at the California Graduate School of Theology, the HC School of Christian Ministries, Long Beach University, Biola University, and other schools.
Don and Gloria met at Huntington College and were married in 1955. They have three children: Steve (now age 66), Stu (63), and Rick (58). Steve is Communications director for the United Brethren in Christ denomination; Stu owns an automobile sales and repair shop in Van Wert, Ohio; and Rick is director of Student Support Services at Indiana University-South Bend. There are seven grandchildren, 10 great-grandchildren, and one great-great-grandchild, all living in Indiana and Ohio.
Don taught elementary school in the Huntington area and worked six years as assistant business manager at Huntington College. In 1966, the Dennie family moved to Harrisburg, Pa. Don taught sixth grade, and he and Gloria provided leadership to the recently-started Devonshire Memorial United Brethren church. Don also directed junior camp at Rhodes Grove Camp in Chambersburg, Pa.
In 1969, the family moved to Lake Havasu City, Ariz., where Don taught junior high while providing leadership, particularly in youth ministry, to the new First UB church started by Rev. Marvin D. Price.
In 1973, Don Dennie left teaching to become a fulltime United Brethren minister. He was assigned to the UB church in Pixley, Calif., serving there 1973-1983. He was ordained in 1983 by Bishop Raymond Waldfogel. Five more UB senior pastor assignments followed: Fountain Hills Community in Fountain Hills, Ariz. (1984-1989); Olive Branch in Lakeville, Ind. (1989-1995); Third Street UB church in Fort Wayne (now Anchor Community, 1995-1998); Convoy UB in Convoy, Ohio (1998-2001); and a second stint at Olive Branch (2002-2006).
A small memorial service will be held. There will be no body (cremation was chosen), and no meal afterwords.
Time: 2:00 pm Sunday, January 8, 2023. People can visit with the family one hour beforehand.

Location: Anchor UB church, 1529 Third St., Fort Wayne, IN 46808
Gloria asks that memorials be made to UB Global, the mission arm of the United Brethren in Christ. Contribute online at UBGlobal.org, or send a check to: UB Global, 302 Lake Street, Huntington, IN 46750.