08 Dec

Jamie Hoffman: New Admin Assistant to the Bishop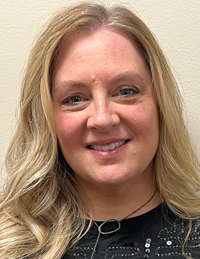 Jamie Hoffman joined the Headquarters staff on November 28, 2022. As administrative assistant to the bishop, she interacts regularly with UB ministers, church leaders, cluster leaders, and leadership teams.
Jamie taught language arts for 31 years—three years in Kendallville, Ind., followed by 28 years at Crestview Middle School in Huntington, Ind. She also taught at Huntington University for many years as an adjunct professor. When she became eligible for retirement from the school system, she decided to see what God might have in terms of a second career. She wanted to do something with an emphasis on service. Upon learning about the opening at the United Brethren National Office, she was immediately drawn to it.
Jamie came to the UB National Office with deep roots in the United Brethren in Christ Church. Her grandfather, Rev. Ronald Hoffman, was a longtime UB minister in Michigan, and her great-grandfather, Andrew Hoffman, was a UB minister, too. Jamie's great-aunt, Bernadine Hoffman, was a UB missionary in Sierra Leone for 39 years. Both of Jamie's parents graduated from Huntington University, as did Jamie and her sister, as well as both of Jamie's children.
Jamie was born in the Upper Peninsula of Michigan, but when she was in second grade, her father, Jim Hoffman, accepted an administrative position at Huntington University. Her mother, Marda Hoffman, was Finance Director and Office Manager at the United Brethren National Office for 24 years, 1979-2003 (back in the 1960s, she had spent a couple years as assistant editor of publications).
So, Jamie brings to the position a love for the United Brethren church, and a familiarity with a great many UB people. She attends College Park UB church in Huntington, the church in which she grew up.
Jamie has two children. Aisha and her husband, a lawyer, live in Minneapolis, Minn. Her son, Kai, lives in Huntington and works for Sweetwater Sound.