19 Apr

Obituary: Rev. Wayne Goldsmith, Longtime UB Minister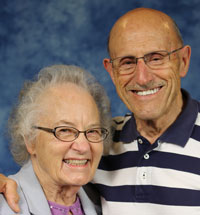 Rev. Wayne Goldsmith, 91, passed away April 16, 2021. He and his wife, Mary, who died in 2018, enjoyed 66 years of marriage together. A celebration of life service will be held June 12, 2021, in Fort Wayne, Ind. Details below.
For 45 years, Wayne served congregations fulltime in Ohio, Michigan, Indiana, and Ontario. After retiring, he spent another 15 years serving many congregations as an interim minister, including in Fountain Hills, Ariz., in 2002.
The first United Brethren church he pastored was Parkwood Gardens UB church in Guelph, Ontario, 1985-1988. He went on to pastor churches in the former Michindoh Conference, which included churches in southern Michigan, northwest Ohio, and northern Indiana. He also served a number of stints as an interim pastor for UB churches.
Visitation: Friday, June 11, 2021, from 1-3 pm and 5-7 pm.
Visitation location: D.O. McComb and Sons Maplewood Park Funeral Home, 4017 Maplecrest Rd., Fort Wayne, Ind.
Celebration of Life service: 10:30 am Saturday, June 12, 2021. Visitation one hour beforehand.
Location: Central Ministries, 5801 Schwartz Road, Fort Wayne, IN.