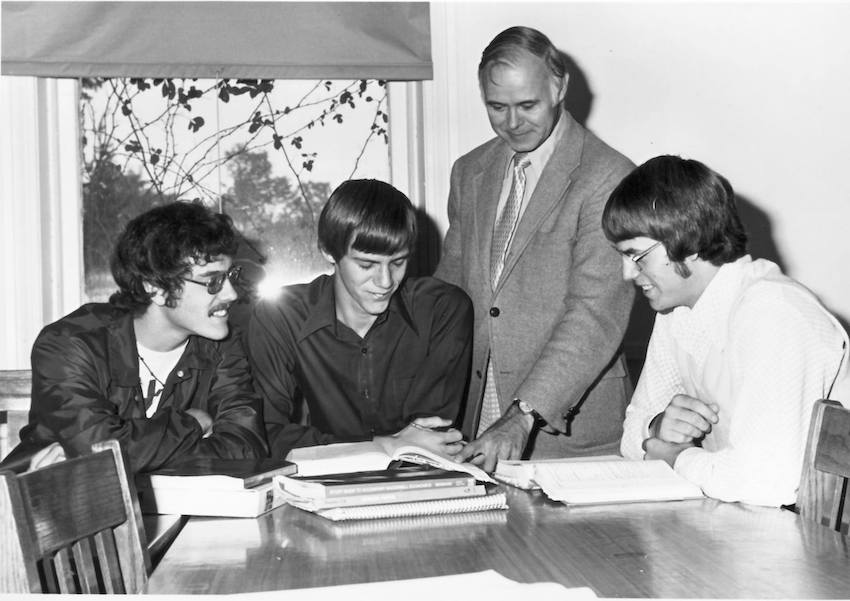 Charles Brady, 99, a business professor at Huntington University for 27 years (1958-1986), passed away Monday, March 29, 2021. He held the title of Associate Professor Emeritus of Business and Economics.
During his time in the Department of Business, the department grew from three graduates in 1959 to comprise about one fourth of the student body by the time he retired. He always had a "deep conviction for the need of committed Christian business graduates."
Visitation: 1-4 pm Saturday, April 3, 2021.
Location: Myers Funeral Home Huntington Chapel, 2901 Guilford St., Huntington, IN 46750.l
Memorial Service: Friday, April 16, 2021.
Service location: College Park UB church (Huntington, Ind.).
Charles was born in Missouri in 1922. He enlisted in the US Armed Forced in 1942–his senior year of college–and served for three years in Hawaii, Okinawa, and Korea. Following his honorable discharge as a sergeant, he returned to Northwest Missouri State University to receive his degree in business administration. Mr. Brady then went on to teach business, earn his Master of Arts degree from Northern Colorado University, and became superintendent of a small high school in Kansas.
He taught high school for six years and spent seven years as superintendent of school in Kansas. Then, in 1959, Huntington University president Dr. Elmer Becker recruited him to come teach at Huntington.
Charles and Doris Brady were married in 1947. They were longtime members of College Park UB church in Huntington. They both served the church in various ways over the years. Charles also represented the church as a delegate to Central Annual Conference and served on the conference finance committee. After retiring from the college in 1986, he served as interim camp director for Camp Cotubic (Belfontaine, Ohio) and Camp Living Waters (Luther, Mich.). Doris passed away in November 2019. They are survived by a son and daughter.
"Charles Brady provided a clear example of Christ, scholarship and service to the community at Huntington University," said Dr. Sherilyn Emberton, current president of HU. "He and his wife, Doris, were loyal supporters of all things Huntington and were seen many years after their retirements as faithful attendees in support of student and staff events. We are forever blessed by Mr. Brady's love for his students and the Forester Family."