23 Feb

Obituary: Rev. Earl D. Peters, Retired UB Minister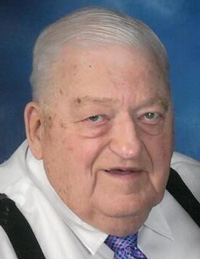 Rev. Earl D. Peter (right), 95, a retired United Brethren minister, passed away February 18 in Fayetteville, Pa.
He grew up in Biglerville, Pa., and in 1947 served as a sergeant in the US Army Air Corps. He graduated in 1957 from Huntington University, and from the HU seminary in 1958. He was ordained in 1958.
Peters was a United Brethren pastor for 23 years, and served on many study committees for Pennsylvania Conference and at the denominational level. He was elected as a delegate to General Conference six times, and also served on the Church Ministries board. Within Pennsylvania Conference, he served on the Piney Mountain Home board for 23 years, and was chairman for 18 years.
His wife, Melva Peters, passed away in August 2020.
Funeral arrangements are being handled by Dugan Funeral Home in Shippensburg, Pa. Private services will be held at the discretion of the family.