03 Feb

Steve Fish Joins UB Global Staff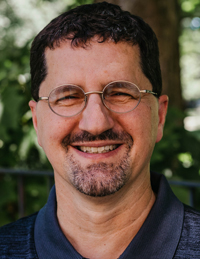 Steve Fish (right) has joined the UB Global staff as an associate director, as of February 1, 2021. He has served in United Brethren ministry since 1989, and for the past five years has been Teaching Pastor and Director of Missions at Emmanuel Community Church in Fort Wayne, Ind.
Steve is at least a third-generation UB; he recalls hearing that his grandparents were strong supporters of UB missions. He grew up in Temperance, Mich., a few miles from the Ohio line, but the family drove into Ohio to attend the former Emmanuel UB church in the Toledo area.
Steve entered Huntington University in 1985, and as a sophomore chose Bible & Religion as his major. When he attended Challenge '88, the UB denominational convention in Knoxville, Tenn., he sensed a definite calling to the ministry.
At Huntington, he met Kim Maxwell, daughter of Dr. Kent and Carol Maxwell, who had served several decades in United Brethren ministry. Steve and Kim were married in 1989. That year, Steve joined the staff of Morning Star UB church in Kokomo, Ind., where he worked under the leadership of senior pastor Greg Reed. Over the next 12 years he served in various roles, including singles minister, adult education, missions, and preaching.
In 2001, Steve and Kim relocated to Wilmore, Kent., where he entered Asbury Theological Seminary. He graduated in 2005 with a Master of Divinity degree, was ordained that year by Bishop Paul Hirschy, and in November became senior pastor of Oak Harbor UB church (now Shoreline) in Oak Harbor, Ohio.
In 2010, Steve decided to step away from the ministry for a while. He and Kim moved back to Indiana, where Steve worked in secular employment for four years. In 2012, Kim joined the staff of Emmanuel UB church as a counselor and as Director of Women's Ministries, and served five years in that role. In 2015, Pastor Dennis Miller invited Steve to also join the staff.
Growing up in the United Brethren church, Steve heard presentations from UB missionaries who were home on furlough or preparing for overseas service. His first overseas trip was to Honduras, while serving at Morning Star. He has now visited Honduras five times. Other overseas missions experience includes visits to Jamaica, Nicaragua, Columbia, Poland, and a preaching tour with Bishop Denis Casco to UB churches in Mexico. Emmanuel Community Church has been active in UB missions, with members Jenaya Bonner serving in Macau and the Glunt family in Thailand.
For the past several years, Steve has been a member of the UB Global board, and has joined members of the UB Global staff in attending the big Missio-Nexus missions conference for three of the past four years.
In February 2020, Steve joined Frank Yang, now the UB Global executive director, in a visit to Thailand to spend time with the Glunt family and see the new Good Soil Community Center. They left just as the country went into lockdown.
Steve and Kim Fish have two children, Alyssa and Johonna. Kim works in private practice with Clarity Counseling LLC, based in Fort Wayne, Ind.