15 Nov

Obituary: Rev. Robert Miller, 1933-2020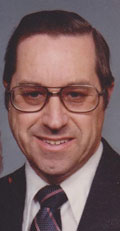 Rev. Robert "Bob" Miller, a United Brethren pastor for over 40 years, passed away on November 12, 2020, in Bryan, Ohio.
Bob was born in New Castle, Pa., in 1933, and went on to graduate from Huntington University in 1955, and from the HU seminary in 1958. He was ordained in 1959. He pastored about eight different churches in Pennsylvania, Ohio, Michigan, and Indiana. He also served many years as Michindoh Conference treasurer, and was employed 1976-1990 at Michindoh Ministries Camp and Conference Center. Most recently, he was pastor 1990-1998 of South Scipio UB church in Harlan, Ind.
Due to the ongoing Covid-19 restrictions, there will be a private burial for the family with a memorial service at a later time.
In lieu of flowers, the family asks that memorial contributions be made to Huntington University in Huntington, Ind.