08 Jun

June Brown: a UB Missionary Hero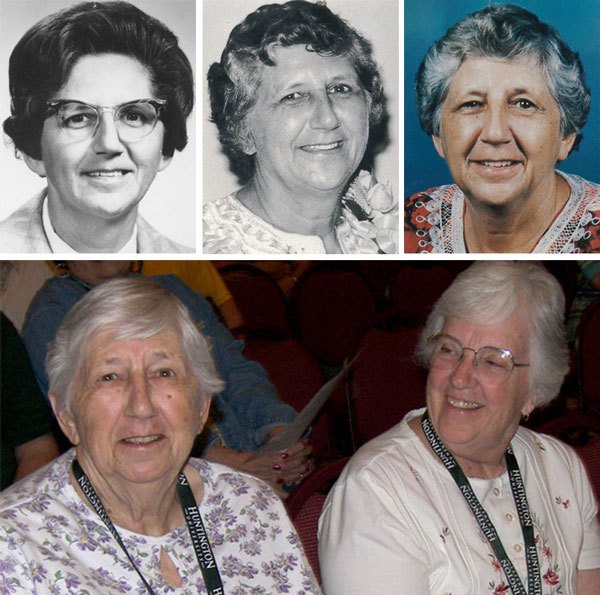 June L. Brown, age 89, of Chambersburg, Pa., passed away on Thursday, June 4, 2020. She served 35 years as a United Brethren missionary in Sierra Leone. Private graveside services will be held at Norland Cemetery in Chambersburg. No other arrangements have been announced at this time.
You can read June Brown's obituary on the Geisel Funeral home website. In lieu of flowers, memorial contributions may be made in her name to UB Global, 302 Lake St., Huntington, IN 46750. Designed "Sierra Leone Hospital" on the memo lane. Or, contributions can be made to King Street Church Joy Class, 56 North Second St., Chambersburg, PA 17201.
Below is June's story as told in All for Christ, Volume 2, by Steve Dennie.
—————–
"It Took Love"
Beginning around 1973, Edward Morlai, the Sierra Leone Conference director of Church Services, worked with June Brown in the Bumpe office. He was a big fan, but by no means the only fan. "She is not a stranger; she is one of us, and we like her. She is readily accepted, not only in our church, but in our culture. We bring many problems to her, and she helps us a lot. She knows what to do at what particular time. Anywhere you go, people know Miss Brown."
When Mr. Morlai visited the United States in 1985, he told June Brown, "Now I know what you're giving up to come to Sierra Leone."
June didn't view it that way. "When I come home on furlough, I almost feel guilty being here. Everything I touch and feel and eat, everything reminds me of what I don't have over there, and what they don't have — and probably won't get for years to come, no matter how hard they strive for it….I'm not giving up anything. It's a call, a desire to do the Lord's work."
Mr. Morlai smiled. "I don't think she has convinced me. It took love to leave a church like King Street and go to Sierra Leone, and stay all those years. It is a big sacrifice for her. It takes a lot of love."
June Brown grew up in Pennsylvania. She accepted Christ at age eight, and at age 15 sensed God calling her to the mission field. She enrolled at Huntington College in 1948, but left to spend four years in the Women's Air Force. While stationed in San Antonio, Texas, she taught math and science classes, and played on the base softball and basketball teams, both of which won the Women's Air Force World Championship. She returned to Huntington College in 1954, graduated in 1956, and became a public schoolteacher in Rockford, Ill. But the call to missions remained. In 1957, she began 35 years as a United Brethren missionary in Sierra Leone.
June's missionary service included six years as a teacher at Centennial Secondary School, followed by 29 years at Bumpe High School, where she taught math and Bible. She also served stints as boarding home manager, bookstore clerk and acting principal, and could ably step in when the school needed an electrician, plumber, or diesel mechanic.
During her furlough in 1966, June returned to Huntington College to teach physical education and coach basketball, volleyball, and tennis. In 1985, June took on the role of Director of Missionary Affairs. She remained in Sierra Leone until 1992, when all missionaries were evacuated from the country because of a military coup. She took the opportunity to retire from missionary service. June returned to her hometown of Chambersburg, Pa., and to her home church, King Street.
During Commencement services on May 18, 1993, Huntington College recognized her with the honorary Doctor of Humane Letters. The citation began:
"June L. Brown has built a life of excellence everywhere she has invested her talent and energy. In education, in service to country, and in missions, she has always held to the highest standards in her personal life and professional endeavors."