25 Mar

Update from Roger and Marilyn Reeck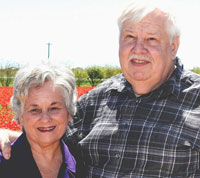 Roger and Marilyn Reeck (right) are UB Global endorsed missionaries serving with Wycliffe Bible Translators. They are based in La Ceiba, Honduras, but a lot of their work involves consulting and training in other countries. They sent this update:
"Over the last several years the Lord has taken us to several countries, and we have had the privilege of meeting and knowing so many of His chosen people. Now, we feel a very strong burden for them.

"Honduras. There are many cases of coronavirus, and the country is under complete shutdown. They do have good hospitals and hospital staff, but medical resources are limited. We pray for God's children in these countries.

"Guinea Bissau (in West Africa). There are very few hospitals, they are not well staffed, and they have few medicines, masks,etc.

"Venezuela. The hospitals are lacking even the smallest supplies. That includes not even having gloves or soap. The people are already malnourished and have no built-up immunity. All we can do is to call out for God's mercies.

"We know that His love extends to all and is revealed to others through His children. May God help them to be that Light.

"We were in Honduras from November to the middle of February. During that time Roger travelled to Brazil and checked the translation of the Yaminahua language. His time was very profitable. In January he was to spend three weeks in Colombia leading a Joshua Translation Workshop, but that was cancelled. Another event to take place the end of March was cancelled also."
Two of their daughters work in the medical field. Christy Andino and her husband, Rigo, are UB Global missionaries with Commission to Every Nation. Christy is a nurse with a mission hospital in La Ceiba, Honduras. Marilyn writes, "At the moment, many decisions have to be made about the care of coronavirus patients."
Amanda is a doctor of Internal Medicine at the University Hospital in San Antonio. They already have many coronavirus patients.
Roger and Marilyn have been in the states for several weeks visiting churches in Maryland and Pennsylvania, and attending a conference in Dallas. They have decided not to return to Honduras right away. They are spending this time with their daughters in San Antonio. They write, "The great thing is that we can do our work from anywhere there is internet."