10 Oct

October 14: UB Pray for Nicaragua Sunday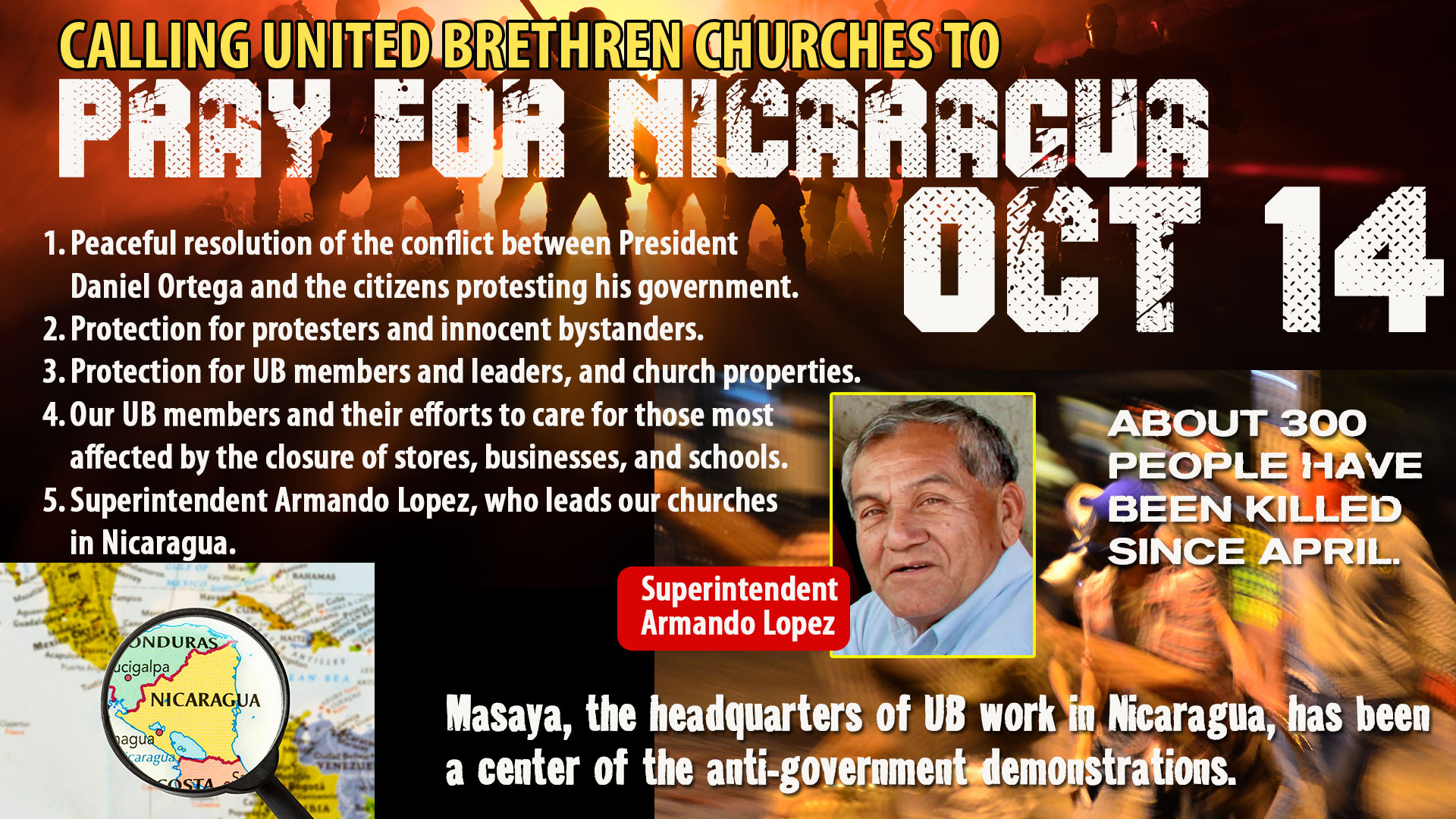 Jeff Bleijerveld, Director of UB Global
Hundreds of people have been killed in Nicaragua since April 18 in what has become a popular uprising against the Central American country's president, Daniel Ortega, and his government.
We invite all our churches to join us in prayer for Nicaragua this coming Sunday, October 14. You can use this Powerpoint slide (1920x1080px).
Below is an update we received at the UB Global office this morning (October 10) from our national leader, Bishop Armando Lopez.
"The situation is still very difficult, as there is no security for anyone, even foreigners. Everything has been deeply politicized, and there is a profound economic crisis at present. The cost of living has increased 70 percent, and fuel by 20 percent. Unemployment shot up to almost 300,000 unemployed. The crisis has driven away tourism, which was one of the major economic drivers. Restaurants and hotels have had to close their doors and lay off employees. Add to this tropical depression Michael that flooded farm fields and neighborhoods. Thousands of victims are in shelters, such as churches or houses, having lost almost everything.

"As a result of these pressures, the crisis is hitting everyone, not simply the poorest, who already live with very little. In addition, there are serious threats from the United States of sanctions against Nicaragua to force the government to negotiate with its citizens. These sanctions would be the withdrawal of international loans that would hit Nicaragua very hard. Pray concerning the lack of food to feed the hungry, and the treatment of the sick. We are concerned for those in Niquinohomo who have been particularly hard hit with health concerns.

"Political persecution remains strong, resulting in thousands of young people migrating to Costa Rica. More than 500 people are being held as political prisoners, accused of terrorism, and tortured by the police and paramilitary forces. Even though the new stories no longer appear in your newspapers or news broadcasts, the protests in the street continue, although not so many people, due to the risk of arrest, torture, and death.

"We as a church remain neutral, praying and counseling our brothers and helping the needy with what we can. We ask that you not give up praying. Nicaragua is not another Cuba, or another Venezuela, and we appreciate all the spiritual help that God provides as a result of your prayers. We will remain in touch. May God bless and keep you."