26 Jul

All for Christ: a New, Two-Volume Denominational History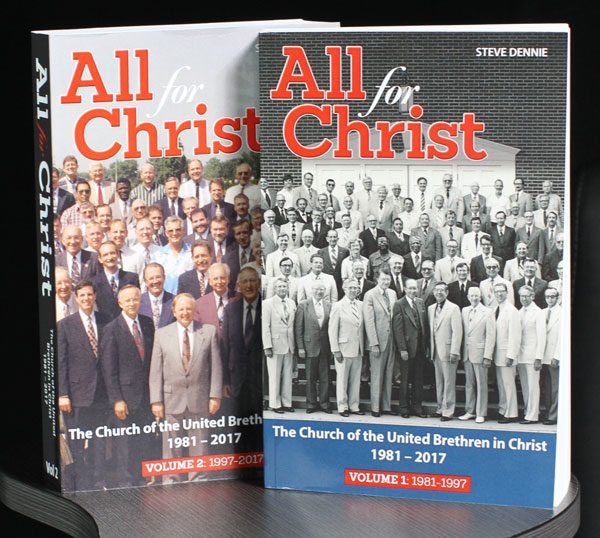 All for Christ, a new two-volume denominational history, has been published in conjunction with the 250th anniversary of the United Brethren Church. It focuses on the years 1981-2017; a previous history, Trials and Triumphs, went up to 1981. However, All for Christ goes back to our beginning to cover our entire history with a variety of subjects–women in ministry, alcohol, pastoral assignments, merger opportunities, higher education, war/peace, and others.
All for Christ gives the complete history of nearly every United Brethren mission field. There are also biographical chapters on a number of United Brethren leaders who passed away during the 1981-2017 period–George Fleming, Duane Reahm, DeWitt Baker, Jerry Datema, George Weaver, Clarence Kopp, Raymond Waldfogel, Clyde Meadows, and others.
All for Christ was written by Steve Dennie, the United Brethren Communications director. Both volumes were published in June 2017. They are available for purchase on Amazon at $14.95 each. Or, you can order from the United Brethren national office for $12.95 each, plus $6.50 shipping. Or order both volumes for $25 (plus $6.50 shipping). Email Jane Seely or call her toll-free at: 888-622-3019.