04 May

On This Day in UB History: May 4 (Old Otterbein Church)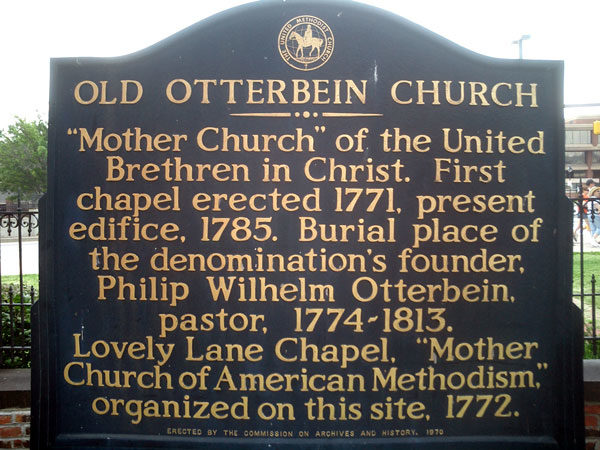 On May 4, 1774, William Otterbein became pastor of the Howard's Hill church in Baltimore, Md. He remained there for 39 years, until his death in 1813. All that time, he also provided leadership to the United Brethren movement he and Martin Boehm had launched in 1767.
Otterbein was coming into a messy situation, and he knew it. The German Reformed church in Baltimore had gone through a nasty split, with various accusations flying around. The church's more evangelical element split off, bought property, and built their own church, which became known as Howard's Hill.
In 1773, Otterbein was asked, at least twice, to come pastor the church. The first time, he said no. The second time, he said he would go IF the German Reformed synod approved; they didn't.
Francis Asbury, a young Methodist leader who had been in America for three years, was asked to write a letter to Otterbein, asking him to come pastor Howard's Hill. Asbury hadn't yet met Otterbein, but had heard a lot about him. How much the letter helped, we don't know. But three months later, Otterbein became the pastor (despite the synod's continuing disapproval). And he and Asbury became close friends.
Howard's Hill was essentially a independent church which maintained nominal ties to the German Reformed denomination (which had little or no authority). Otterbein himself kept his German Reformed credentials, but was not considered a minister in good standing. He had other things on his agenda. Most ministers were assigned from the United Brethren ranks.
In 1949, the church united with the Pennsylvania Conference of the Evangelical United Brethren Church. That denomination, in 1968, merged into today's United Methodist Church.
Today, that church is called Old Otterbein Church. Their website says, "Old Otterbein Church is the mother church of the United Brethren in Christ and the oldest church edifice in continuous use in the city of Baltimore." Otterbein is buried in the church yard.