29 Mar

HU Breaking Ground for Plant Science Building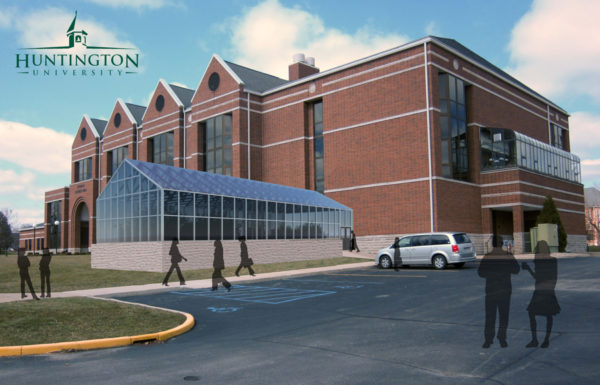 On April 20, Huntington University will break ground for the Ware Plant Science Production Facility, to be built next to the Dowden Science Building. The 2000-square-foot building is designed to be split into two independent zones, one for student instruction and one for research and production purposes.
"This new facility will provide needed space for students in agriculture courses to work with crop plants and learn about how they grow," stated Dr. Raymond Porter, Director of the Haupert Institute for Agricultural Studies. "Ag students will have hands-on learning and research opportunities in the area of plant and soil sciences, with the potential for aquaponics as well. Faculty and students in biology, chemistry, occupational therapy, and other programs can also benefit from the additional space for instruction and research. And the Horticulture Club or future ag-related clubs could use some of the space for plant propagation and production. We are enthusiastic about the possibilities."
The lead donations came Dr. and Mrs. Douglas Ware of Chapel Hill, N. C. Carolina, who gave in honor of Douglas' late father, Dale Ware, a long-time Huntington County educator and HU alum (Class of 1936).
The Haupert Institute for Agricultural Studies opened in the fall of 2015 and promotes a Christian perspective on agriculture. It recognizes the responsibility to be good stewards of God's creation and to examine questions of sustainability and justice. The institute is intended to help meet the growing need for agriculture professionals, and offers eight concentrations in agribusiness as well as an agricultural education degree. For more information on the Haupert Institute, please visit www.huntington.edu/agriculture.