25 Mar

On This Day in UB History: March 26 (Ed Roush)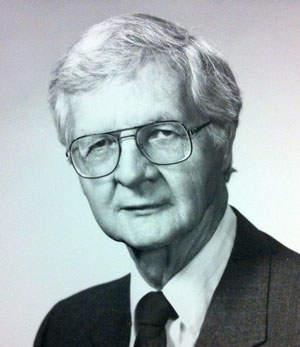 Dr. J. Edward Roush passed away on March 26, 2004. He was 83. Roush served eight terms as a US Congressman from northern Indiana, and was instrumental in establishing the 911 emergency phone system. Roush was deeply committed to the United Brethren church and to Huntington University. He and his wife, Polly, were longtime members of College Park UB church in Huntington, Ind.
After graduating from Huntington College in 1942, Roush entered the US Army. He served as an officer during World War II, and was caught behind enemy lines during the Battle of the Bulge. He was later called to active duty during the Korean War.
After graduating from the Indiana University School of Law in 1949, Roush went into private practice and served as a Huntington County prosecuting attorney. Then, in 1958, he ran for Congress on the Democratic ticket. After five terms, Roush was defeated in 1969 followed a redistricting, but he won his seat back in 1971 and served three more terms. He was defeated for re-election in 1976 by Dan Quayle, who went on to become a US Senator and Vice President. After several years as a director in the Environmental Protection Agency, Roush returned to private practice in 1979.
Ed and Polly Roush lived on a house on the Huntington University campus, next to Livingston Hall and across the street from the Administration Building. He served six years on the college board of trustees, and one period as interim president during 1989 while President Eugene Habecker was on sabbatical.
Dr. Roush was also very active in the denomination. He was the UB legal counsel for many years, and served on various leadership boards and committees. He was a frequent visitor to the National Office, usually for meetings with Bishop C. Ray Miller. He always carried himself straight and tall, with a distinguished bearing. He could argue a position forcefully and eloquently, but he always wrapped his words in grace, civility, and consideration for those on the receiving end.