05 Feb

On This Day in UB History: February 5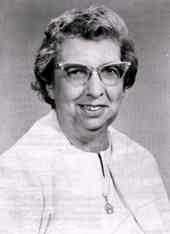 On February 5, 2001, a funeral service was held for Bernadine Hoffman at Crossroads UB church in Charlotte, Mich., where she settled in 1983 after retiring from missionary service. Bernadine had suffered a major stroke and, a few days later, passed away.
Bernadine served 39 consecutive years as a missionary in Sierra Leone. She went to Africa in 1944 and served 12 full terms. It was, at that point, the longest any UB missionary had served under the UB Board of Missions. A missionary serving in a restricted access country finally passed her in 2014.
Over the years Bernadine served at Bonthe, Gbangbaia, Mattru, and Bumpe in various teaching and administrative roles, including a number of years in the conference's Christian Education office. She also raised several African children, one of whom was Rev. Joe Abu, a UB pastor in Pennsylvania. He wrote:
"Even though from a strong Muslim background, I came to know the Lord through the missionary ministries of Mama. I still remember our daily devotions at home when she sang from the Mende hymnal and read the Word of God to me in my language. There are numerous other Africans in Europe, Africa, Canada, and around the world who came to know the Lord, and are ministers today, because of the missionary work of Mama. We need some Mama Hoffmans today. People ready and willing to invest in the lives of the less fortunate and people around us."