14 Oct

The Aftermath of Hurricane Matthew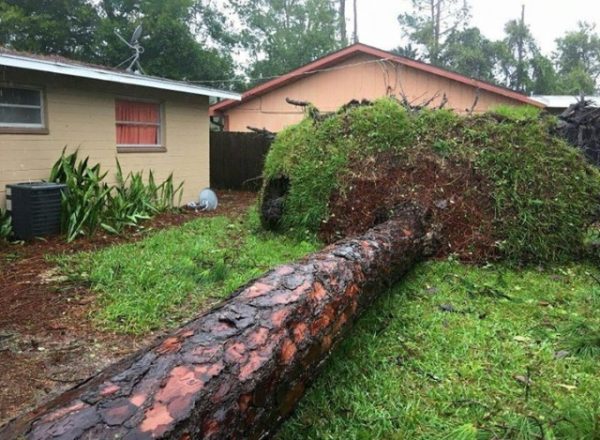 Matt McKeown (right), a pastor at First UB church in Holly Hill, Fla., sent a report about Hurricane Matthew and its aftermath. This came on Friday afternoon, October 14.
The church property—various buildings, thrift store, recording studio—suffered $40,000 – $50,000 worth of damage. "Several parts of our church roof will need to be repaired or replaced, as we've got about 30 leaks in it right now."
Tree removal was be a major expense. "Hurricane insurance does not cover the removal of downed trees. We've got a dozen or so of those. Removal of one tree can be up to $2000, especially these big Southern yellow pines that are 100 feet tall.
"We just bought a building to expand our recording studio, and one of the selling points was the big lighted sign at the roadside. It was destroyed by the hurricane, and it is not covered by insurance….
"It's a bit of a racket, honestly. The premiums are so large for hurricane insurance that most people can't even afford to have wind damage insurance on their buildings. Plus, if the wind blows the roof off of your building, and the rain destroys your property, your hurricane insurance does not cover the damage from the rain because you lost your roof. It only covers the replacement of your roof. But even then, the deductibles are so high there's no point in making a claim.
"I can also tell you that most all of our congregation was without power for almost a week. One couple in our church had a giant oak tree fall directly in the middle of their house, splitting it in two."
On October 7, as the storm moved on, Matt posted on Facebook, "All in all we fared very well, and if not for the last minute turn of the storm to the east, we would be in many feet of water now and much more wind damage."
Gary Vanderveen, pastor of Faith UB church in nearby Port Orange, Fla., reports that they came through the hurricane very well, with only minor cleanup needed.
The Pastors and Spouses Summit for churches with 300+ attendance is scheduled for October 24-27 in Daytona Beach. The location had to be moved because of damage to the original hotel. However, everything is working out. They'll be able to meet at an even nicer hotel which is closer to First UB church. Pastor Chuck and Vicki McKeown of First UB are among the persons who will attend this event.
If you would like to help First UB church, please contact Matt McKeown by email, or send donations to:
First UB Church (Daytona)
560 Flomich Street
Holly Hill, FL 32117