29 Dec

Death of Esther Lange, wife of Rev. Burton Lange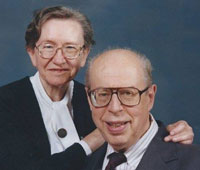 Esther Lange, widow of Rev. Burton Lange, passed away at 9:15 pm on Monday, December 28, 2015. Sons Roger and Jerry were praying around her bed as she took her last breath.
Esther and Burt served 58 years in United Brethren pastoral ministry–in Kansas, Indiana, Virginia, Maryland, and Pennsylvania. Burt passed away June 22, 2015. Funeral details for Esther will be posted when available.