28 Sep

Death of Missionary Ellen Saufley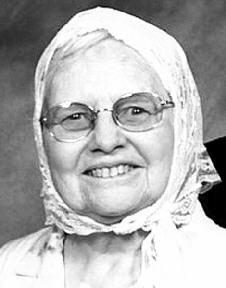 Ellen Margaret (Bressler) Saufley passed away at 5:30 pm on Monday, September 21, 2015. Ellen and her husband, Aldean, served as missionaries in Haiti for 45 years under One Mission Society and were partially supported during part of their time by United Brethren Global Ministries.
Ellen had been a resident of the Menno Haven Nursing Center in Chambersburg, Pa., since September 30, 2010. She became a resident there after suffering a fall in 2010 and spending two months in unsuccessful rehabilitation.
Ellen was born on July 7, 1930, outside of the town of Herndon, Pa. She gave her heart to Christ around the age of five, and at age 11 sensed God telling her to prepare to be a missionary/Bible teacher. Her studies beyond high school were all directed toward becoming the best teacher she could be.
One of her instructors at the Intercession City Bible College invited her to spend a year in Haiti working with a mission the instructor had established. Ellen said she moved ten times in eleven months as she worked in different areas of Haiti. The Creole language of Haiti has at least five different dialects, depending on which part of the country the speaker comes from. While traveling across Haiti that year, Ellen learned Creole and throughout her lifetime was able to identify people by the dialect of Creole they spoke. However, very few were able to identify Ellen's dialect because she spoke such a universal Creole.
When she returned from that year in Haiti, Ellen enrolled at the Transylvania Bible School at Freeport, Pa., north of Pittsburgh. Her three years of study culminated in a three-year certificate for Biblical Studies. In 1979, the school upgraded the value of that certificate to a three-year Bachelor of Theology Degree and at the end of a special convocation week, Ellen was awarded an honorary Doctor of Divinity degree.
When the Oriental Missionary Society (now One Mission Society) opened its Bible school in Haiti, Ellen transferred from the correspondence department for the mission's Radio 4VEH ministry to become a fulltime professor in the school. She taught, at one time or another, every subject in the school's catalogue and at several times she was assigned to serve as Director of the school.
Ellen and coworker Aldean worked together in various job assignments. On January 1, 1963, they were united in marriage. Although they each had their own responsibilities—Aldean in the radio station and Ellen in the Bible School—they helped each other. Ellen served as recording technician in the radio station, and Aldean taught English and provided music training for the Bible School students.
Ellen had a thirst for knowledge and was constantly talking about the need to upgrade her teaching qualifications. This resulted in her spending a lot of time during each of their furloughs in furthering her education. This is a partial list of her achievements:
1958: Three-year Bible Certificate (Transylvania Bible School).
1979: Upgrade of Three-year Bible Certificate to 3 Year Th.B. (Transylvania Bible School).
1976: Upgrade of Three-year Th.B to Five-year Th. B. In Allentown, Pa.
1986: Master of Christian Ministry degree (Huntington University).
1991: Master of Arts in Religion Degree (Evangelical Seminary, Meyerstown, Pa.).
1994 – Doctor of Religious Education Degree (Florida).
In spite of suffering from fibromyalgia, Ellen carried through with her work assignments at the Bible School in Haiti until the Saufleys retired from missionary service in 2002. At that time, the daily pain from her fibromyalgia prevented her from doing much of the work she would have liked to have done, and her fall in 2010 resulted in her spending her days sitting in a wheelchair or lying in a bed at Menno Haven.
Ellen often told her husband that she would like to have engraved on her tombstone the words which our Lord spoke of the woman who anointed his feet in Bethany before his crucifixion: "She has done what she could" (Mark 14:8).
The memorial service for Ellen Saufley was held at 2pm on Friday, September 25, 2015, at Salem United Brethren Church in Chambersburg, Pa.