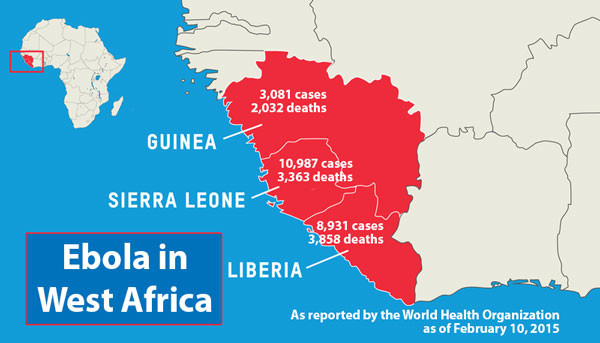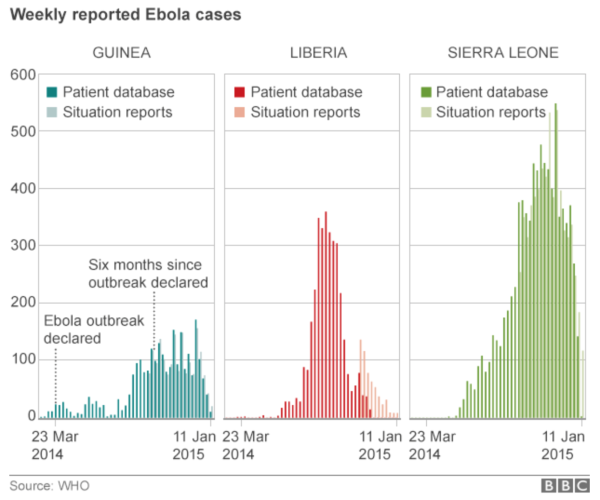 Jeff Bleijerveld, Director of Global Ministries
January saw a significant decline in the number of new cases of Ebola being reported throughout West Africa. Nearly a year since the original outbreak in Guinea, the World Health Organization reports that some 9,252 have died of the deadly disease (as of February 10, 2015). The vast majority of these have taken place in Guinea, Sierra Leone and Liberia. Sierra Leone has the highest number of reported cases, 10,987, with 3,363 deaths (about 500 less than Liberia).
| Country | Cases | Deaths |
| --- | --- | --- |
| Guinea | 3,081 | 2,032 |
| Liberia | 8,931 | 3,858 |
| Sierra Leone | 10,987 | 3,363 |
| Totals | 22,999 | 9,252 |
On January 30 we received this report from Rev. Justin Marva, conference administrator for Sierra Leone National Conference.
"We thank God that the health situation out here has improved. Most regions except for the north and west do not have cases of Ebola for the past three weeks. However, we don't want to be complacent, so we are still maintaining the health rules. Schools are still closed and all public gathering banned. However, there are still church services and people are now allowed to travel. We hope everything will be alright by April as we expect schools to reopen soon. We are doing fine. Keep praying for us."
The three shipments of medical and relief supplies have all been received and are being distributed. The pallet of rice, beans, and other various food items gathered by UB churches and packed by the Cochranton United Brethren Church in Pennsylvania, is being distributed by conference leadership.
The 20-foot container gathered by numerous UB churches and others in the Eastern US also arrived and is being distributed through the Christian Health Association of Sierra Leone. This same organization is also handling the distribution of the 40-foot container filled with nearly $400,000 worth of medical supplies. We did not gather those supplies, but we provided the $14,000 needed to ship the container.