18 Feb

HU License Plate for Indiana Residents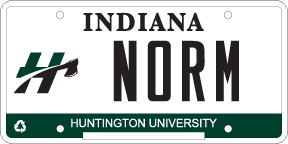 Indiana residents: renewing your license plate in March? Consider getting a Huntington University license plate. For each plate you purchase, HU receives $25 for the Forester Fund, a scholarship fund that benefits more than 90% of our students. Last year, it generated over $13,000. Plus, the plates help raise people's awareness of Huntington University.
The state requires that at least 500 plates be sold each year. HU is in danger of losing its license plate because of low numbers, so your support is welcome. Anyone can order a Huntington University plate for passenger cars, trucks, recreational vehicles, and motorcycles.
Current students who buy the HU license plate get the annual $50 campus parking fee waived for the year.
You can learn more about this program on the HU website, and you can order through the BMV.