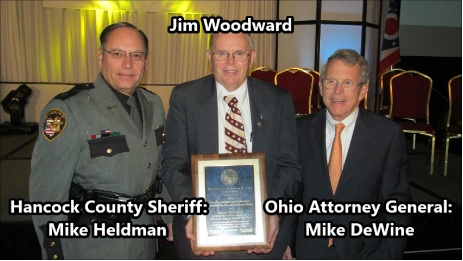 Jim Woodward, a member of the First UB church in Findlay, Ohio, received the 2014 State of Ohio Citizen Leadership award. Woodward is administrative chaplain at the Hancock County Sheriff's Office.
received the honor during a conference today for law enforcement.
"Those receiving awards this year have all made tremendous contributions to their communities by valiantly saving lives and putting the safety of others before their own, by going above and beyond for community members, and by dedicating their lives to public service," said Attorney General Mike DeWine.
After studying the "Purpose Driven Life" book and listening to the complaints of the inmates, who said the weekly worship services and Bible studies were lectures on how "bad" they were, Jim decided to start his own monthly "motivational" gatherings with the inmates with community leaders. This morphed to "Celebrate Recovery" and eventually to a weekly worship service where, during which First UB's pastor, Darwin Dunten, shares the weekly church sermon. The average attendance is 45-50 inmates from a population of 100. Officials have praised Woodward for his efforts at encouraging inmates during and after their incarceration.
Woodward retired last year from his Razor's Edge barbershop in Findlay after 49 years as a barber. He has also been awarded the Findlay Citizen of the Year award.