28 Aug

VBS: the Giant Bubble and the Lion's Den

During the week of August 6 -10, International UB church (Allentown, Pa.) held its annual VBS, in partnership with St. John's Evangelical Congregational Church here in Allentown. This year's theme was Babylon Daniel's Courage in Captivity.

The kids enjoyed the acting, games, lessons, worship, and crafts. However, one game made a mark on them. They were covered with a giant bubble to show how God protected Daniel in the lion's den.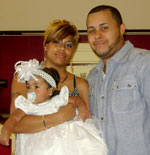 The hit song was "Amazing Grace, My Chains are Gone." Many were very touched and teary during the singing. At the closing service, Pastor Neville Tomlinson gave a brief message on how the church must prevent re-education of our kids by secular society.
Pastor Tomlinson adds, "One highlight of the month was our first infant dedication (right), which was very moving to us because it was the daughter of our spiritual son whom we discipled over 10 years ago."