28 Aug

Dan Paternoster, ELT Member, Struck by Car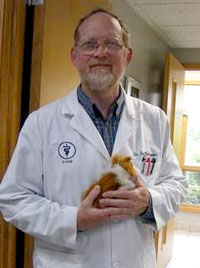 Dan Paternoster (right), 55, a member of the denominational Executive Leadership Team since 2001, was riding his bike this morning (Tuesday, August 28) when he was hit by a car. He is currently in the ICU at Sparrow Hospital in Lansing, Mich.
The family reports that he has injuries to the brain, and the prognosis is not good. Dan's wife, Nancy, and his daughter are with him. Please pray for Dan and his family. The Paternosters are members of Fowlerville UB church in Fowlerville, Mich. Dan is a veterinarian, and an avid bicyclist.
UPDATE 1:55 pm: According to LivingstonDaily.com, Dan was struck from behind by a 2008 Dodge Avenger sedan as he was riding his bike to work on the shoulder of Grand River Avenue. The woman driving the vehicle said "something got her attention" and she was looking to her left when she heard her vehicle strike something. She looked back, and the bicycle was going up in the air and the rider was striking her vehicle, said the sheriff. Speed and alcohol do not appear to be issues. Also, Dan was wearing a helmet.
UPDATE 3:45: A call from Fowlerville church informed us that Dan's vital signs are good, and he is no longer in a life-threatening condition. However, there has been significant brain damage. He also has many bone fractures and other injuries. You can pray now for bleeding in the brain to stop, and for the overall healing of his body. He did squeeze his wife's hand when she insisted that he squeeze it, so that's a good sign.
Mailing address:
Dan Paternoster
4770 Cemetery Road
Fowlerville, MI 48836