17 Aug

Several Thousand Attend HU Fandana Festival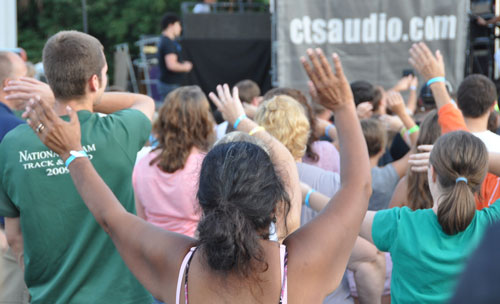 Steve Dennie, Communications Director
The Fandana Festival proved to be a huge success for Huntington University. The three-day festival, August 11-13, began on Thursday afternoon (August 11), led up to a big concert on Friday night, and concluded with a small worship service (for anyone still there) on Saturday morning.
The university estimates that up to 1500 people attended on Thursday, and over 3000 attended on Friday. Over 30 bands participated. The weather, both days, was gorgeous.
Where'd the name "Fandana" come from? It's just a made-up, catchy word. But unofficially, I'm told, it means "good times, good fun, and good music at Huntington University." That's the image they want in people's minds when they hear the word Fandana.
I previously wrote about my experience attending on Thursday. I returned on Friday for the evening concert at the outdoor "Red Stage," set up on the soccer practice field, right along Route 24.
I enjoyed the music, but I was most taken by the family-friendly atmosphere. It wasn't just teens and young adults. There were people of all ages–lots of older baby boomers, lots of young children (including a number of strollers), and everywhere in between. Remember: today's 60-year-olds came of age during the 1960s; they grew up on rock music.
People brought their own chairs, or lay on blankets on the grass. The young-adult set thronged around the stage, standing up throughout the concert (that's what young people do–that, and a lot of jumping). Children scampered around being children. People on the fringes threw frisbee rings. I didn't see anyone smoking.
A bunch of rented inflatables were set up for kids. Just behind the sound booth, women in clown suits were face-painting children and drawing caricatures. Norm the Forester (the HU mascot) and the Star 88.3 mascot (a star, of course) wandered through the crowd. A few older folks sat their chairs clear back in the pine trees along the highway, far from the stage. But the sound level, in my opinion, was pretty tame compared to most rock concerts.
When I arrived around 6 pm, Todd Agnew was performing. He mostly did worship music (his forte), and then gave a 20-minute talk before concluding with a few more songs, including his "Grace Like Rain" take on "Amazing Grace."
Then the evening kicked into Christian rock mode, with Huntington University's own Attaboy sandwiched between headliners Superchick and Switchfoot. All were good, and similar. As the sun set, hundreds of colorful glow rings were distributed. People wore them around necks and wrists and ankles, and as darkness descended, it made for quite a colorful sight as you looked over the crowd.
Switchfoot, as planned, took the stage around 9:30. An After Party was held in the Merillat Centre for the Arts at 11 pm, but I was long gone by then.
I appreciated Fandana's emphasis on two causes: human trafficking, and child soldiers. Two Christian organizations which focus on these causes, TrafficJam.org and Project AK-47, were promoted throughout the event. The organization names were prominently displayed above the stage, the whole stage backdrop illustrated these causes, and an offering was taken on Friday night.
This was the inaugural Fandana Festival. For a first-time thing, it seemed (to me) to go amazingly well. HU plans to make it an annual event, and will announce next year's dates soon. This is a great event to bring not just your youth group, but other adults who enjoy contemporary Christian music. The atmosphere is wholesome and fun, making Fandana a nice place to just hang out.