12 Aug

Fandana Music Festival: Day One at Huntington University
Steve Dennie, Communications Director
Huntington University kicked off its first Fandana Music Festival on Thursday, August 11. They gave me a press pass, so around 5 pm I headed over to the campus to catch some good music.
Fandana is a big deal. At least a thousand people would be attending. I heard thoughts of maybe 3000 people coming before it was all over. Hard to tell with a first-time thing like this. But the college seemed ready, with volunteers everywhere, places roped off, plentiful signs, and all kinds of little extras. This took a healthy dose of planning to put together. And there's still time to come for the big Friday night finale with Todd Agnew, Superchick, Attaboy, and Switchfoot!
After getting my pass in the Merillat Physical Education Complex, I traipsed over to the Fine Arts building, where bands had been performing in the main auditorium–the Orange stage–since 4 pm.
I heard Reilly, a five-member band from Philadelphia, that I just loved. The show opened with two members–husband and wife–coming onto the stage playing "All the Lonely People" on violins. The girl played violin during most of the songs, and a little keyboard. The guy mostly played lead guitar, but occasionally would sling it onto his back and go play some mean violin with his wife. I tell you, it was a beautiful sound! I've never heard a rock band combine violins so effectively. Plus, they gave a solid, but brief, presentation of the gospel. (I should mention their incredible version of "For What It's Worth," the "there's something happening here" classic from Buffalo Springfield.)
Throughout Reilly's performance, more and more people trickled in, until the lower section was decently populated, with others in the upper section. Probably a dozen kids stood in front of the stage. I must say, I didn't care for the dark, foggy atmosphere on stage. I couldn't see the performers well–way too much shadow, and no spotlights hitting them from the front (that I could see). I don't know if that mood atmosphere was intentional, or the result of a fog machine gone rogue. But I didn't care for it (though I realize I'm not the target demographic).
After Reilly came two guys from Nashville who called themselves 33 Miles. I'm sure there's a story behind the name, but I didn't hear it. They sat on stools, with one guy singing lead vocals and the other playing acoustic guitar and harmonizing. The crowd loved them. A lot of energy between them, and they connected with the crowd. The guitarist reminded me of Kristian Bush from Sugarland. Their second-to-last song was a nicely-done version of David Crowder's "How He Loves."
They finished just before 8 pm. Another group, 77 Times, was scheduled to play next. But at the same time, Stellar Kart was playing out on the Red Stage outside. Nearly everyone cleared out of the auditorium. I decided to hear a few songs from 77 Times before leaving. But after 1 song, I realized they weren't quite my cup of tea, so I headed out.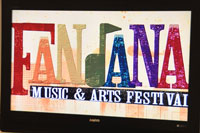 Ashley Smith, who works in the university media relations, gave me a ride in an electric cart out to the Red Stage, which was set up on a field along Route 24, a field sometimes used for soccer practice. It made a nice, mini-Woodstock venue. As Stellar Kart jammed (they were my kind of band!), people sat on blankets or in chairs they had brought, while others threw frisbee rings. There was a hot air balloon, and a long line of people at a cart selling coffee products–coffee, tea, mocha, latte, and smoothies. There were a lot of younger kids with parents. A good-sized crowd stood in front of the stage listening to the band. A big screen to the side showed the performers in large.
Stellar Kart did two Disney songs in kind of a rock/grunge style (I'm not good at differentiating contemporary music styles). One was "Kiss the Girl," from The Little Mermaid, followed by "A Whole New World." I could imagine Foo Fighters doing those songs, though I could understand all of the words. (Thanks for enunciating!)
After Stellar Kart finished, there was a ten-minute lull during which headliner BarlowGirl got set up. The big screen was filled with scenes from Huntington University–students, profs, athletics, classes, etc. Good marketing opp.
I'd never heard BarlowGirl before, though I know they've come through Fort Wayne. I was quite impressed. They rocked the place, that's for sure. Three girls, and a guy on drums, for the first couple songs. Then the lead singer switched to drums, the bass guitarist moved over to lead vocals along with some keyboard, and the drummer took bass. I liked them a lot.
BarlowGirl started playing at 9 sharp, right on time. I stayed for about a half hour before deciding I needed to leave. But I left excited about what Huntington University was pulling off. And with anticipation to coming back the next day, when the REALLY big crowds were expected. Bands would play on the Orange Stage all day, beginning at 9 am. Then at night would come the headliners. Yes, this 54-year-old with one bad ear is looking forward to it.