06 Jul

Wednesday: Day 1 of the 2011 National Conference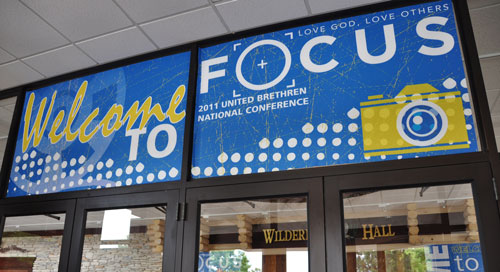 The 2011 US National Conference got off to a great start on Wednesday, July 6, at Saw Mill Creek in Huron, Ohio.
Throughout the afternoon, people arrived from throughout the denomination–over 700 people. They were received by a friendly group of volunteers who greeted them at the door and got them registered.
The conference officially kicked off at 6:30 pm with the opening service. A worship team from Emmanuel Community Church (Fort Wayne, Ind.) led the people in singing, with videos and a drama rounding out the opening part of the service.
Then Bishop Phil Whipple introduced the week's keynote speaker, Rex Bullock. Rex gave an inspiring message on "Fanning the Flame."
The day concluded with an ice cream social sponsored by Huntingotn University.
Altogether, a great start.
Thursday includes:
An 8 am worship service.
A breakfast for delegates, spnsored by the Israel Ministry of Tourism, who will give a brief presentation.
The business sessino, with adjourment set for noon.
The Golf Scramble.
The evening service at 6:30.
An after-service reception sponsored by Global Ministries.