20 Jun

Arthur Wilson Named Interim Campus Pastor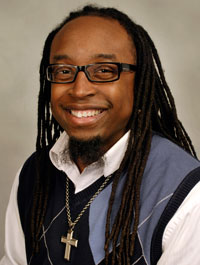 Rev. Arthur Wilson has been named interim campus pastor of Huntington University, with responsibility for shaping and mentoring the student body to have hearts for God. He replaces Rev. Bill Fisher, who left the university in June after 18 years as Campus Pastor.
Wilson serves as the director of urban scholarship and mentoring at Huntington University. He came to the university in 2009 to head the Horizon Leadership Program, which he will continue during this interim period.
Wilson formerly served as the City Life coordinator for Fort Wayne Area Youth for Christ, overseeing operations of the Primetime Community Center which ministers to at-risk teenagers. He will also continue serving as assistant pastor at New Covenant Worship Center in Fort Wayne, Ind.
"Arthur is a gifted ministry professional who has impacted our students in significant and profound ways," said President G. Blair Dowden. "He will do an outstanding job in this new position and will continue to make a positive difference in the lives of our students. I am very grateful that he is a part of the Huntington University community."
Wilson also helped to shape the Horizon Leadership Program at HU to create a more racially and ethnically diverse campus. Launched in the fall of 2008, the program is a collaborative effort between the university and Youth for Christ that is designed to attract and retain students of diverse racial and ethnic backgrounds. The Horizon Leader Scholarship covers fees associated with tuition and housing costs for up to 10 semesters.
Arthur is a 2004 graduate of Taylor University Fort Wayne, with a degree in pastoral ministries. He is currently working toward his Master of Arts degree in youth ministry leadership at Huntington University.