28 Feb

Five Attend First Regional UB History Course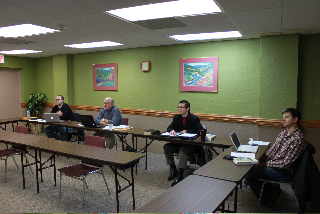 The annual United Brethren History course, a requirement for becoming a licensed UB minister, is being held in two regional settings this year.
February 21-22 at Rhodes Grove Camp in Chambersburg, Pa.
March 7-8 in Wayne, Ohio.
Five persons attended the course at Rhodes Grove Camp, which was taught by Daryl Elliott, pastor of Fountain UB (Keyser, W. Va.).
Amy Moreno, Associate Pastor of Christian Education at Bethany Evangelical Church (Carlisle, Pa.)
Matthew Hann, Associate Pastor of Care and Worship at Jerusalem Chapel (Churchville, Va.).
Jeff Stansbury, from Idaville UB (Idaville, Pa.).
David Grove, senior pastor of Ebenezer UB (Greencastle, Pa.).
Adam Lane, Worship/Youth Director at Blue Rock UB (Waynesboro, Pa.).