24 Feb

A Day of Farewells for Darlene Burkett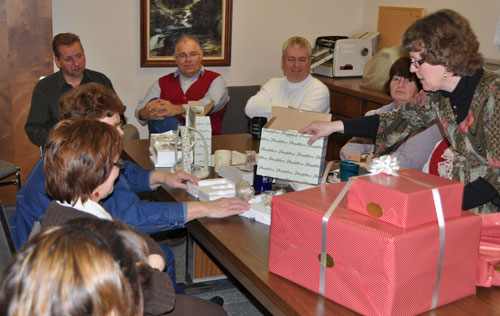 On Wednesday, February 23, the Healthy Ministry Resources staff recognized Darlene Burkett for her seven years as Administrative Assistant to Global Ministries. As reported earlier, Darlene will complete her work at the national office next week.
Darlene and her husband, Phil, will load up a truck on Friday, March 4, and move to Cass City, Mich., where Phil will become senior pastor of the Cass City Missionary Church. Until the end of 2010, Phil was Minister of Music and Worship at College Park Church in Huntington, Ind.
During the morning break time, the staff presented a bunch of nicely-wrapped gifts to Darlene. Each box held part of a large, elaborate nativity set. Darlene collects nativity sets.
Then, over lunch, the staff went to downtown Huntington to the Brick House Grill, where Phil was waiting. Everyone enjoyed a nice meal together as a send-off for Darlene. She'll be back next week to continue training her replacement, Peggy Sell. But after that, Peggy will be on her own.
We at the national office wish Phil and Darlene well as they begin this new venture.