22 Oct

Obit: James E. Sturgeon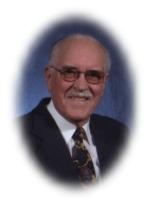 James E. Sturgeon, 72, of Rockford, Ohio passed away Friday morning, October 22, 2010, at his residence in Rockford, Ohio. He was a member of Praise Point UB church in Wilshire, Ohio.
Before entering the ministry, Jim worked for Chrysler 1956-1970. He graduated from Huntington University in 1974, and from its Graduate School of Christian Ministries in 1975.
Jim retired in September 2003 as a pastor. He had served these congregations:
New Hope UB (Huntington, Ind.). He presided over the relocation of the church, initially called Etna Avenue UB church, to its present location.
Park UB (Bluffton, Ind.).
Calvary UB (Rockford, Ohio)
Decatur UB (Decatur, Ind.).
Surviving are his wife, Joann Sturgeon, and three children.
Visitation: 11 am – 2 pm and 3-8 pm Sunday, October 24. Also, 1 hour before the funeral on Oct. 25.

Visitation Location: Zwick & Jahn Funeral Home, 520 North Second Street, Decatur, Ind. 46733.

Funeral: 2 pm Monday, October 25. Wes Kuntzman officiating.

Funeral Location: Praise Point Church, Wilshire, Ohio. 555 Decatur Rd North, Willshire, Ohio.