18 Jan

HU Grad's Commerical May Make the Super Bowl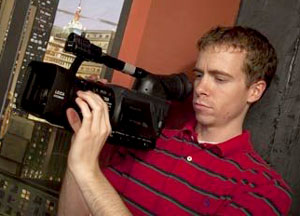 Last May, Eric Church earned a degree in digital media arts from Huntington University. Now, he's in the running to win a share of $5 million as part of the Doritos "Crash the Super Bowl" ad competition.
Church was part of a team that produced "Casket," one of the top six finalists (out of 4000 entries). It features a man who stages his own funeral to eat Doritos and watch football.
People can vote for their favorite of those six finalists. The top three will then air during the Super Bowl. Voters also earn a chance to win Super Bowl tickets.
The "Casket" commercial was produced by Erwin McManus, pastor of Mosaic, a church in Whittier, Calif. Eric Church attends there.
"Shooting it was a blast," Church says, "especially the whole falling out of the casket stunt. We used 70 bags of Doritos to cover him up inside. It was great!"