21 Jul

Elisa Reeck Graduates from College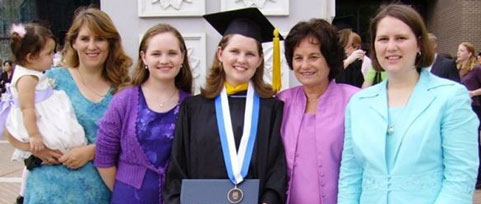 Marilyn Reeck with her four daughters and granddaughter. L-r: Chrysti (Reeck) Andino and daughter, Amanda, Elisa, Marilyn, and Teresa.
Roger and Marilyn Reeck are endorsed UB missionaries serving with Wycliffe in La Ceiba, Honduras. The entire Reeck family was present for the May 10 graduation of Elisa, the youngest of the four Reeck children. She, like her three older sisters, graduated from Pensacola Christian College in Florida. A Honduran flag was placed on the platform, alongside other flags, to represent Elisa.
After 700 graduates received their diplomas, the culminating Presidential Citation of Merit was announced. This award is given to one male and one female student for their Christian leadership and for exemplifying the ideals of the college. They were all excited when Elisa's name was called out to receive the award.
After seven weeks in the States, Roger and Marilyn were headed back to Honduras when a major delay occurred. Marilyn was turned back at the airport because her passport expired in one month. A new law declares that passports must be valid for at least three months prior to entry into any Central American country. Marilyn sent off to Canada for a new passport and was able to travel three weeks later–just in time for a trip to Nicaragua. In the meantime, she waited in San Antonio, Texas, while Roger continued to Honduras. Daughter Chrysti, along with two little ones, live in San Antonio.
The Reecks were instrumental in translating the Bible into the Garifuna language, spoken in several Central American countries. During this trip to the US, they attended a Garifuna church in Houston which started three years ago. "As we listened to all of the singing and preaching in Garifuna, it seemed like we were back in Honduras. It was a very exciting time getting reacquainted with many we already knew and to meet others for the first time. It was fun to hear which town each person was from in Honduras.They were excited to receive news from back home and especially to hear our report of what God is doing in Honduras."