20 Jul

HU Student Named Miss Indiana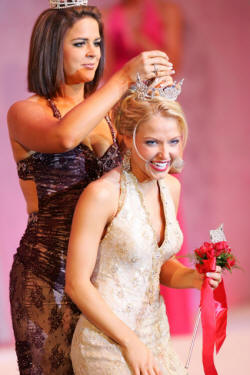 Susan Guilkey, a 2005 graduate of Huntington University, was crowned Miss Indiana on July 25 during the Miss Indiana Scholarship pageant held in Zionsville, Ind. Guilkey will compete at the Miss America pageant in the coming months.
Guilkey, a native of Noblesville, Ind., graduated from Huntington in May with a degree in communication studies. In 2003, she won the Miss Huntington competition. At the Miss Indiana competition, Guilkey sang "I Don Quixote" from the "Man of La Mancha" musical for her talent. She also won the competition's "People's Choice" award.
Her platform as Miss Indiana includes publicizing Girls Inc., a non-profit organization dedicated to inspiring girls to be strong, smart and bold. During the spring semester of her senior year at Huntington, Guilkey completed an internship with Girls Inc., in Indianapolis.