07 Apr

On This Day in UB History: April 7 (Washington Gardens)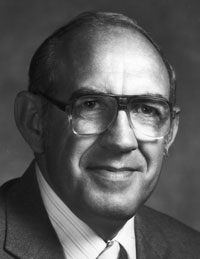 The Jerry Datema family moved to Jamaica in 1964, after having served in Sierra Leone 1957-1963. Datema (right) became field superintendent, following founder James O'Sullivan.
In 1966, Jamaica Conference decided to begin work in the capital city of Kingston. They bought two lots in the new Washington Gardens area.
Mrs. Violet Brown, along with her children and mother, lived a couple blocks from the future church. She was originally from the New Gardens UB church, and was eager to have a United Brethren church in her neighborhood. She offered her home. The Datemas set up folding chairs in the carport and began holding services on December 6, 1966. After 13 weeks, attendance hit 87.
Meanwhile, construction was underway. The new church was dedicated on April 7, 1968. It was called Faith United Brethren Church. The congregation hadn't yet bought furniture, but the church was filled and spirits were high.
Also participating, but not happy about it, was a Rastifarian man who lived next door. He banged a metal pipe against the fence to disrupt the service…and continued harassing the congregation for the next 25 years.
Nevertheless, the Washington Gardens church continued to grow and thrive, with a large constituency of educated and professional people. In 1985, Washington Gardens ranked as the fifth largest church in the denomination, worldwide, with an average attendance of 360.
The Datemas left Jamaica at the end of May 1968, and a couple months later were back in Sierra Leone. It had been a very productive stay.