03 Apr

Obit: Edmund Burkey, April 3, 2017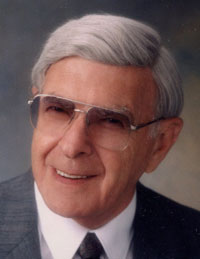 Edmund Carleton Burkey, 96, passed away on April 3, 2017, in Adrian, Mich. He was a United Brethren minister for 29 years.
Ed and his wife, Jean, were married in 1942, and he entered North Baptist Theological Seminary that fall. He graduated from Monmouth College (Monmouth, Ill.) in 1951, and later earned a Masters in Theology from Winona Lake School of Theology (Winona Lake, Ind.).
In 1944, Burkey began his preaching ministry at the United Brethren church in Van Orin, Ill. He also served the community as a school teacher and principal.
In 1951, he became pastor of College Park Church in Huntington, Ind. During his 15-year tenure, College Park went through two major building programs, including construction of the current sanctuary.
In June of 1966, Burkey became pastor of First UB Church in Adrian, Mich. Within a year, a building program was inaugurated and the new facility was dedicated in 1969 as Trenton Hills United Brethren Church.
Burkey served the United Brethren Church in many capacities, including as senior superintendent of North Ohio Conference. In 1973, he was awarded an honorary doctorate from Huntington College.
In 1979, Burkey became pastor of the Fellowship Bible Church in Adrian, and served there until retiring in 1993. His wife, Jean, preceded him in death.
The funeral will be held 11 a.m. Thursday, April 6, 2017, at Wagley Funeral Home in Adrian, Mich. Dr. Kent Maxwell will officiate. There will be visitation 9-11 a.m. prior to the funeral service.
The family suggests memorial contributions be made to The Fellowship Bible Church or The Hospice of Lenawee Home.