21 Feb

Registration Now Open for 2017 National Conference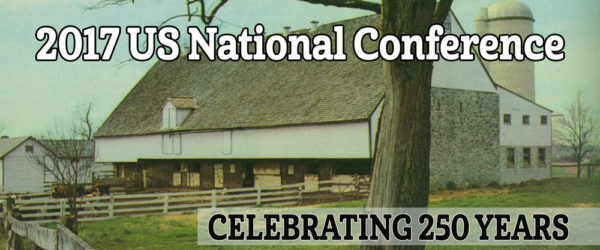 You can now register for the 2017 US National Conference, which will be held July 12-15 in Lancaster, Pa. This will be a historic gathering, as we celebrate our denomination's 250th anniversary.
Meetings will be held at the Lancaster Convention Center in downtown Lancaster, a gorgeous facility completed in 2009. It is the largest and newest facility we have yet used for a national conference. Our hotel, the Marriott at Penn Square, is integrated into the convention center.
Registration Costs
Individual: $60
Family: $100
Hotel Costs
The hotel cost is $125 per room, per night. You can ONLY get that rate through the conference registration process.
Schedule
Registration begins at 3pm on Wednesday, July 12. The opening service starts at 6:30. Each evening service–Wednesday, Thursday, and Friday–starts at 6:30 and is followed by a reception.
The business meeting will be held 8am – Noon on Thursday, July 13. Among other business, a bishop will be elected.
The concluding service will be held Saturday morning at 9:00. The bishop elected on Thursday will speak.
Afternoons are being kept free for excursions to UB historical sites and visiting the numerous attractions in the Lancaster area.
Attractions
The Lancaster area is a great vacation spot. You'll find a lot to do: amusement parks, outlet malls, live entertainment, craft shops, buggy rides, museums, art galleries, and much more.