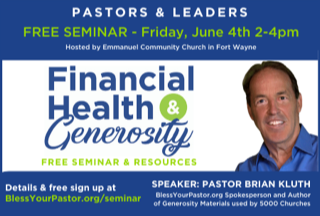 As part of the NAE Financial Health initiative, Brian Kluth, national spokesperson, will travel to over 100 cities across America on the Bless Your Pastor Tour to encourage greater financial health and generosity of churches and pastors.
Emmanuel UB church in Fort Wayne, Ind., will host one of these events.
Date: Friday, June 4
Time: 2-4 pm (doors open at 1:30)
Location: Emmanuel Community Church 12222 W US-24, Fort Wayne, IN 46814
The cost is free. You can register here.